Director Biography and Filmography
denko Jurilj is the journalist who has already worked at newspapers and radio for 17 years. In the past 10 years he has been working for Vecernji List as the reporter journalist. In his career he wrote about a great number of events that marked the outcome of the situation in the area of former Yugoslavia but also in the area of South-eastern Europe, from war conflicts in B&H, Croatia, NATO attacks on Serbia, Montenegro, the legal proceedings in Haag against Slobodan Milosevic to his sudden death. He reported about Kosovo's separation from Serbia, formation of new countries on the west Balkans (Montenegro, Kosovo…).
As a reporter, he reported on the occurrence of the deadly bird's flue virus in Turkey, the NATO forces engagement in Iraq…He also reported on the actions of NATO forces in chasing the most wanted war criminals in Europe, Ratko Mladic and Radovan Karadzic.
He published the reportage about the conflicts between Palestinians and Israelis at the West Coast area and west Jerusalem. He had lots of interviews with political officials, generals, war crime defendants, the leaders of Islamic radical organizations... He wrote the screenplays and directed six documentary films.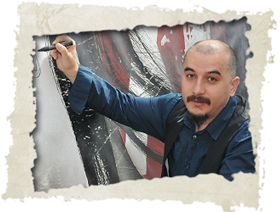 Filmography:
2001. / EASY RIDERS/ documentary film / 35' - screenplay
2010. / FLIGHT OVER THE MINE FIELD / documentary film / 42' - co-director
2011. / 3 DAYS / documentary film / 81' - director
2012. / EXPECTING SNOWBREAK / documentary film / 25' - co-director
2013. / HOSPITAL INCOGNITO / documentary film / 63' - director
2013. / PATIENT / documentary film / 29' - director